Lease Offers enables property managers to issue an email offer to the primary applicant in just a few simple steps using templates and default settings.
The Lease Offer does many things in one:
Congratulate the tenant on being conditionally approved
Advise on payment required (first payment, bond and balance)
Instruct around lease signing
Send important information/attachments
Seamlessly refer the utility lead through to your provider
Create the tenancy in property management cloud solutions (eg. Console Cloud, PropertyTree)
The Lease Offer template includes:
Primary applicant details (name, email)
Lease Details (start/end dates, pets, rental amount)
Payment types amounts and due dates
Lease attachments (general documents for your office eg. statutory Tenancy Checklist, Welcome/Renting e-book, draft lease)
Property attachments (eg. strata by-laws, safety certificates such as pool, gas, fire alarm etc)
How do I customise my team's Lease Offer default settings?
Go to Application / Settings to set the default settings for a team, however in a specific Lease Offer these details can be updated as negotiated:
Rent Cycle (weekly, fortnightly, monthly)
Turn off remaining balance, collect first payment only
Set water usage charges
How do I customise my team's Lease Offer template? With Snug Support.
Complete/return the Payment Details Authority form PDF
Complete the template text customisation
Test on an application and let us know of any further changes
IMPORTANT > Trust Account details and authorisation required to set up Lease Offer details
To be able to send a lease offer, we require authorisation from a Director, Principal or Licencee-in-Charge about your trust account payment details. Please see: Updating the Lease Offer template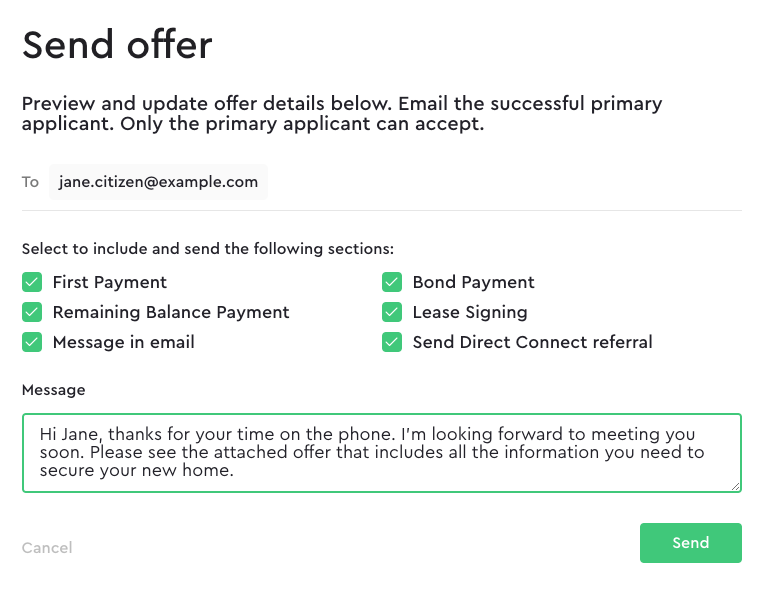 How it works
You can send a Lease Offer to the successful applicants in the Snug Application Workflow. Sending a Lease Offer issues a detailed offer (email and offer landing page) to the successful applicants which provides the details required to secure the property and complete lease signing.
The Lease Offer can be accepted by the primary applicant to track your acceptances and leasing performance in the Advanced Reporting feature.
Step 1 - Move application to lease 'Offered' status
For the application summary list or the application details, select "Move to" -> "Offered" and then click "Save"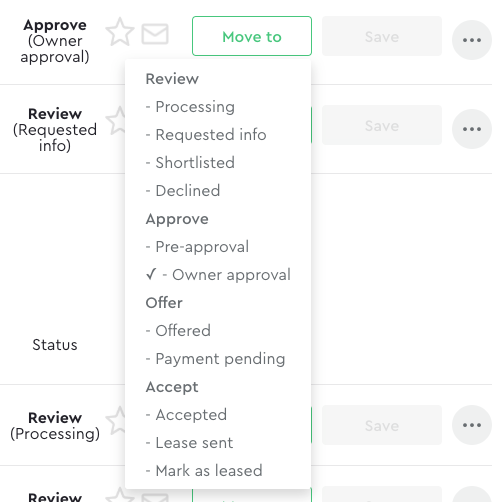 Step 2 - Review the lease
After selecting the Lease Offer inclusions, you can preview and edit the lease offer as it will be displayed to the primary applicant.
Lease start date, end date
Rental amount
Pets if approved
Bond (to government bond board or trust account)
Holding Deposit
Remaining Balance
Lease signing details
Attach statutory or other documents eg. NSW New Tenant Checklist, Strata By-laws etc
Step 3 - Review and send
Review the lease details and press send to dispatch to the primary applicant.
FAQs and Troubleshooting
Q: How do I add attachments to the Lease Offer?
A: Click to "Edit" the Important Information section and add team attachments which will be delivered for all future Lease Offers or property attachments which will only be sent for this lease offer.
Q: How do I update the documents that are attached?
A: Before sending, click "Edit" in the Important Information section and add / remove documents. The uploaded documents will be used for future Lease Offers.