Lease Offers enables property managers to issue an email offer to the primary applicant in just a few simple steps using templates and default settings.
The Lease Offer does four things in one:
Congratulate the tenant on a conditional offer
Advise payment required
Send important information/attachments
Seamlessly refer the utility lead through to your provider
The Lease Offer template includes:
Primary applicant details (name, email)
Lease Details (start/end dates, pets, rental amount)
Payment types amounts and due dates
Lease attachments (statutory Tenancy Checklist, Strata By Laws, Welcome/Renting e-book).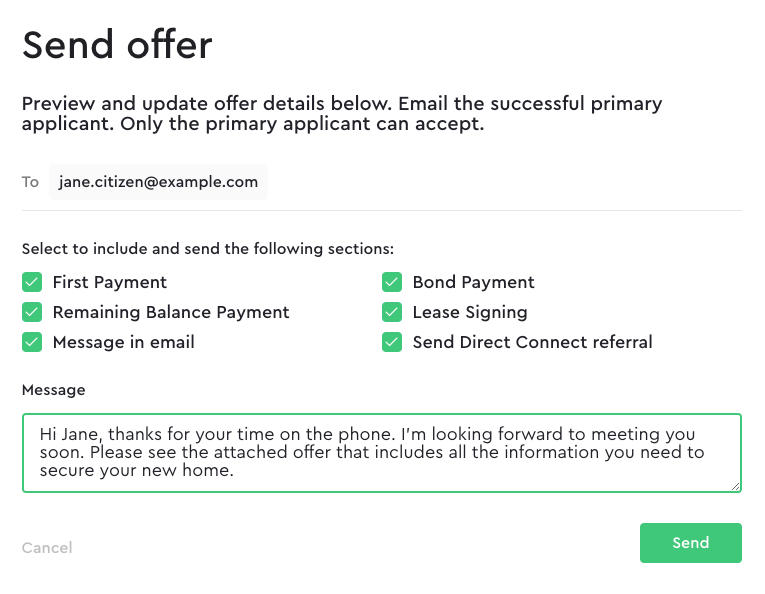 How it works
You can send a Lease Offer to the successful applicants in the Snug Application Workflow. Sending a Lease Offer issues a detailed offer (email and offer landing page) to the successful applicants which provides the details required to secure the property and complete lease signing. The Lease Offer can be accepted by the primary applicant to track your acceptances and leasing performance in the Advanced Reporting feature. 
Sending a lease offer
Step 1 - Move to lease offer
For the application summary list or the application details, select "Move to" -> "Offered" and then click "Save"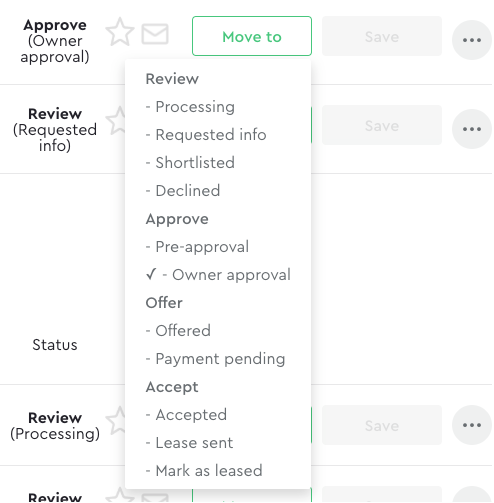 Step 2 - Review the lease
After selecting the Lease Offer inclusions, you can preview and edit the lease offer as it will be displayed to the recipients.
Step 3 - Review and send
Setting up your Lease Offer details
To be able to send a lease offer, we require authorisation from a Team Administrator
We will send a document to record the requested options, payment details and signature.
Please contact our customer success team: help@snug.com