You can archive and unarchive properties to help keep your active leasing list organised. There are a few things to note about archiving a property.
Once a property is archived:
It will not longer be published on your public team-property list on Snug
It will no longer be available for receiving applications
Enquiries for the property will receive a short enquiry response with a link to your active team property list
The archived property will continue to receive feed updates (We will consider a property to be a new listing after 60 days. If you need to re-list earlier than 60 days, please contact our Customer Service Team help@snug.com)
Archived properties that receive a "current" listing update from the property feed will automatically be unarchived
Archiving a property
To archive a property:
From your Team Overview or Viewings, find the property using the search filters
Click the context menu (...) next to the property to be archived and click "Archive"
Click confirm

If the property does not have a successful application selected, you will be prompted to select or continue without selecting.

Unarchiving a property
To unarchive a property:
Visit your Team Overview and select "Archived" for the status search filter at the top of the page
Find the property to be unarchived by scrolling or searching for the address
Click the context menu (...) next to the required property and click "Unarchive"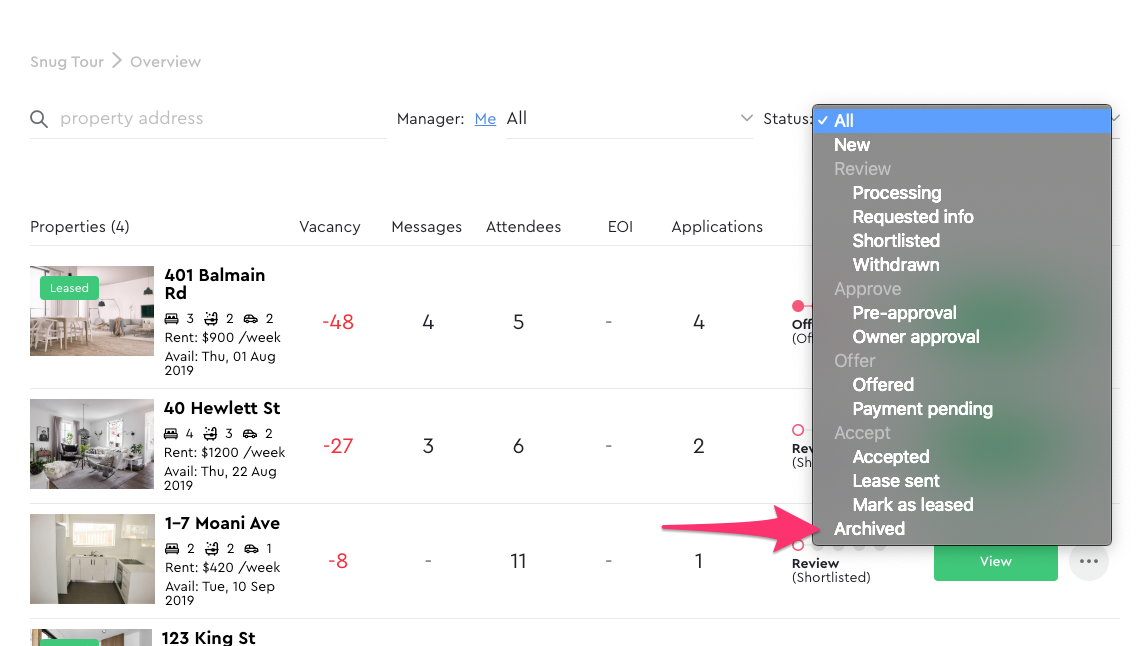 Why does the Snug system not Auto-archive listings from the property CRM uploader?
Snug does not auto archive because:
the listing portal advert might go offline but the PM wishes to continue marketing using the Snug prospecting engine eg. owner doesnt want to pay for another portal advert.
the listing may be an off market property using [Add Property]
the selected tenant might be finalising payment, lease documents or bond and other enquiries might be beneficial in case things fall through
manual archive takes just 10 seconds to process
auto-archiving prompt is under consideration and coming soon.
For more troubleshooting tips visit: https://help.snug.com/hc/en-us/articles/360001231935-Setting-up-your-Property-Uploader-common-questions-and-troubleshooting