This article explains how to re-invite a renter to apply for the same or alternative property if they have been declined or withdrew.
The tenant can reuse their existing Snug profile so re-applying is quick and easy.
Please note for privacy, security and platform compliance integrity we are unable to reopen an declined or withdrawn application. The renter must resubmit using the options below.
There are four options to progress:
- Invite to Apply again to the same property (if they have withdrawn or were declined by mistake)
- Invite to Property: suggest an alternative property where the
- Share the application to with your team member.
- Renter simply re-applies on the property page with their Snug profile

To proceed:
1. Log in to Snug and visit your Overview
2. Find the property and primary renter's declined/withdrawn application.
2. Click the envelope icon or the three dots to open the options:
a. Invite to Apply - an email is sent to the renter inviting them to apply again. This email includes the same property apply link.
b. Invite to Property - this will open a new invite page where you can search for the property that most fit the applicant. You can include a message of your own, and make sure to attach the property using the search function below the form.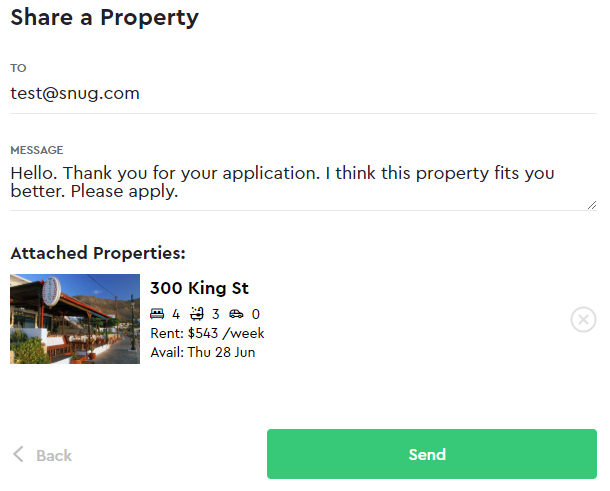 c. Share Application - you can share the application to someone else in the team. The renter information will be sent via email including their contact details.