Seamlessly connect PropertyMe with Snug and start processing high quality applications faster.
How it works & key benefits
Snug updates collects contacts from PropertyMe. The key benefits to an office using the integration are:
Automatically synchronise owner and tenant details from PropertyMe, streamlining on-list
Your team will save time processing applications through Snug
Reduce the chance of data entry errors
Future enhancements may include:
The PropertyMe integration is part of the Integrations Bundle, please see details at: snug.com/pricing
Existing Client Set Up
Activating the integration between Snug and PropertyMe is a two step process:
Email Snug Support to turn on the PropertyMe Integration feature: help@snug.com
Activate the PropertyMe integration
Activate the PropertyMe Integration
Step 1) Log in to Snug as Admin and Activate PropertyMe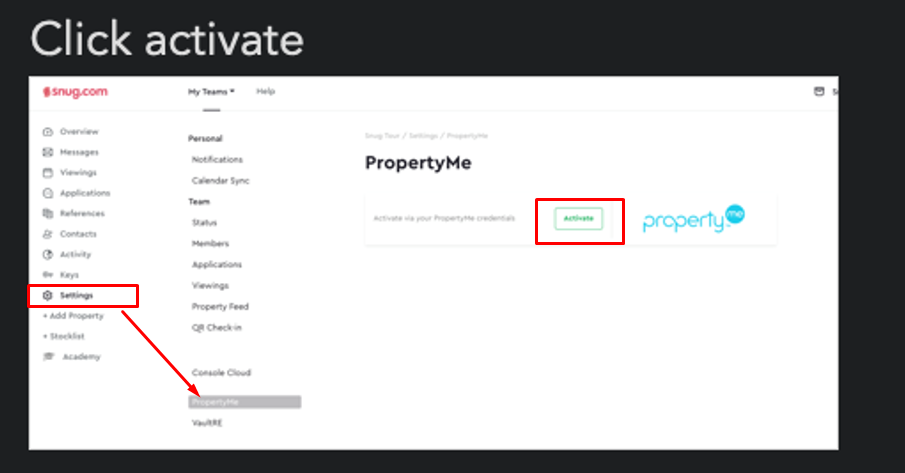 Step 2) Sign into PropertyMe (as an admin)
Step 3) Allow the sharing permissions in PropertyMe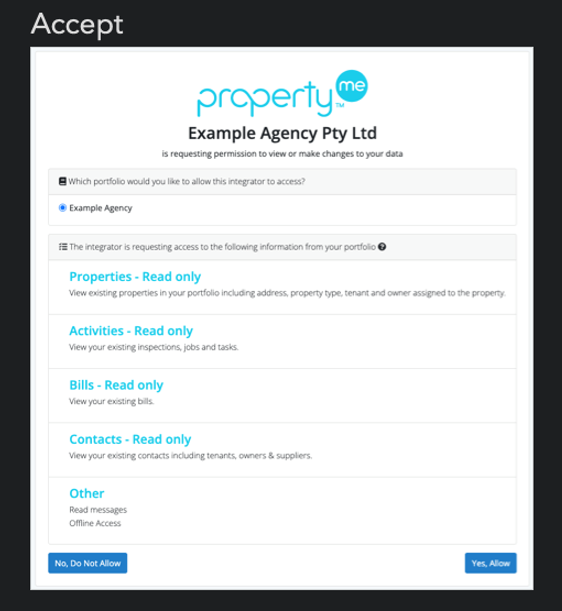 Owner and Tenant details will not be synchronised and added to properties when they are added to Snug.
New Client Set Up
New to Snug? Great : ) We'd love to set up a free trial account, no obligations, no lock in contract period, no costs. To get started, please send our team (hello@snug.com) these details and we could get you set up within a day:
Trading Name
Company Name (eg. pty ltd)
Office address
ABN
Corporate real estate license number
REA Agency ID
Portfolio size (properties under management)
Team member name/emails to add to your account
You'll get a Snug Apply link to use on your website, emails etc, access to the platform plus online training and support to help you get the most from Snug.
Also check out our paid plans including Background Checks and all new features and upgrades: snug.com/pricing
Common questions and troubleshooting
Q. Can successful applicant details be sent to PropertyMe?
A. Not currently
Q. Do my PropertyMe contacts sync with Snug?
A. Yes, owner and tenant details are automatically synchronised and attached to a property when it is added to Snug. This streamlines the on-list process. Owner details are used to send out owner viewing reports and tenant details are used for issuing viewing entry notices.
Q. Can I use the PropertyMe uploader to send properties to Snug?
A. Yes, please see: Property Feed - PropertyMe - Setup & Troubleshooting
Q. How do I deactivate the PropertyMe integration?
A. Navigate to My Team -> Settings -> Team -> PropertyMe and click Deactivate
Q. Where can I send feedback about this integration?
A. We love feedback : ) Please email our team help@snug.com thank you!