Snug's Viewings Run feature allows property managers to plan their optimal schedule for showing multiple properties on one day.
Viewings Run uses Google Maps travel directions and time calculator.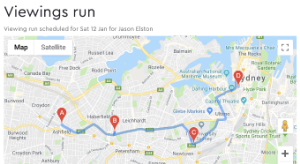 How to set up a viewings run
1. Go into the "My Team" section of your Snug profile
2. Click "Viewings" menu on the left side column
3. Click "Viewings Run" button on the top right of the page
4. Click [Add] to select the properties you wish to view for the specified day. Tip: click [Add] twice if you 'd like to show that property twice in the same run
5. Enter the Viewing Run settings: date of run, team member, inspection time, travel mode, start time etc. to create your viewings run
Note: Select "buffer after viewing" to make sure you have time to lock up/park between viewings.
6. Preview and save the Viewings Run.
Can I adjust the viewing Run?
Yes, in two ways:
1. Use the Pin to drag the property up/down the list eg. from your knowledge of the local area.
2. Edit the time to extend eg. if you have a large family home, increase the viewing from 15 mins to 30 mins.

Are renter prospects notified?
Yes, all renters that have active enquiries on the properties selected WILL be notified of a New Viewing by email with the date, time and button to register.
Unsubscribed renters will NOT be notified ie. if they clicked to stop receiving notifications about that property or from your team.
Are the times published on portals?
No, the viewing times are only published on your team's Snug Apply Link page.
Can I create a Run in advance?
Yes, you can create runs in advance for your team members eg. Thursday morning you might create the runs for the leasing team on Saturday.
How to CANCEL a viewings run?
A viewing run as a group can not be cancelled. Each viewing must be cancelled individually. Go to Viewings, select the time, click [...] and Cancel. Enquiriers and registered attendees will be notified.