Summary
Viewings are scheduled times for Renters to inspect a property for lease.
How it works
Viewing times can be added:

Automatically from your property feed

Manually from the dashboard

The viewing can be managed on the platform (edit, delete)

Through a Viewing Run

Renters can pre-register and be checked in or added as a walk-in (Snug SMSs a walk in and collects the email from the Renter automatically)

[Late] - sends a template SMS to all registered viewers: 'running late' 5,10,15,30 min

[Request feedback] - is sent on the hour after the viewing time automatically

Report - shows a PDF report of the Feedback from viewing attendees

The summary shows the registered, interested and checked in

Easily manage Viewings on the Snug mobile webapp
System settings
Applications show the date/time when the tenant viewed the property and additionally Renters confirm they accept the property condition when submitting their application

Older schedules can be shown by "Show older"
Tips to get the most from this feature:
Click [Invite to apply] to send an email and SMS to all who checked in (with an email or mobile) with a link to start their application

New viewing times can be automatically emailed directly to the owner via settings.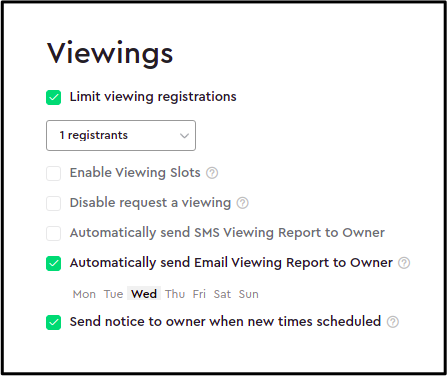 How to Exclude a Property from Viewing Bookings
Tenant with COVID? No worries, block the availability schedule for the desired date/time range.
Login to your Snug team account
Navigate to Settings > Viewings
Select the Availability Window
At the bottom of the page, there is a Excluded Property section
Add the Individual Property & other settings. You can add all, one or none.
Alternatively, you can also:
Navigate to the Viewings page context menu
Select 'Excluded from schedule' and fill in the details