The Snug platform empowers you to offer several types of viewings and automate or streamline the process of scheduling, notifying and prospecting from your viewing attendees.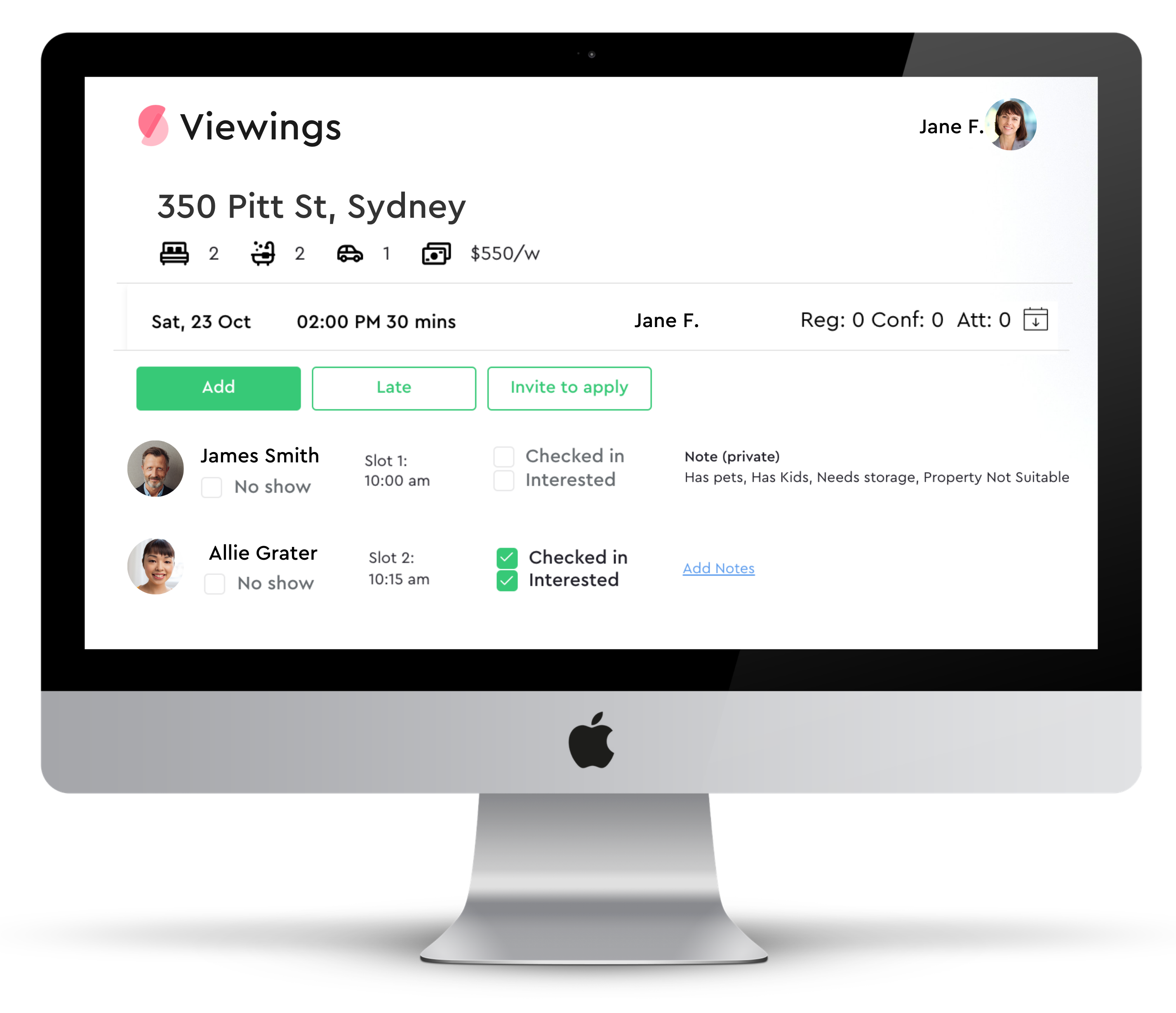 Tranisiting from your current inspection booking software? Follow these three simple steps for quick set up!
Viewing types
Open homes - these are published days/times open to prospects to register as attendees or walk-ins. Use Snug.com on your mobile to Check-In and Invite to Apply.
Ideal week - these are availability periods in which a prospective tenant can book a viewing and this time is then created as an open home and broadcast to enquirers in Messages.
Requested times - general viewing requests from which a property manager can create a private appointment or open home. Visit settings to enable/disable requests.
Private Appointments - you can create a private viewing time (with the option to either publish and/or notify recent enquirers).
Virtual Viewings - you can create a private viewing time (with the option to either publish and/or notify recent enquirers). Visit the property OnList to add a youtube or video link.
Viewings management (Desktop)
Add/edit prospect details (name, email, mobile)
Add preferences for prospect emails
Add viewing notes for the tenant
Add property manager notes for colleagues to attend to repair or maintenance
Add access details and key code information
Add or Check-in a Registered Attendee:
Great for reception to add any attendees that call the office.
Navigate to viewings
Select the specific attendee
Tick the box "checked in"
Viewings management (Mobile)
Visit snug.com on your mobile device to access viewings and other great features.
Add or Check-in using your contacts directory lookup (includes all your Realestate.com.au, Domain.com.au, Homely, Zango, Allhomes and other portal or direct enquiries)
Take Notes on the applicant for internal purposes or to share with the owner/provider
Flag if not interested
Running late SMS / Email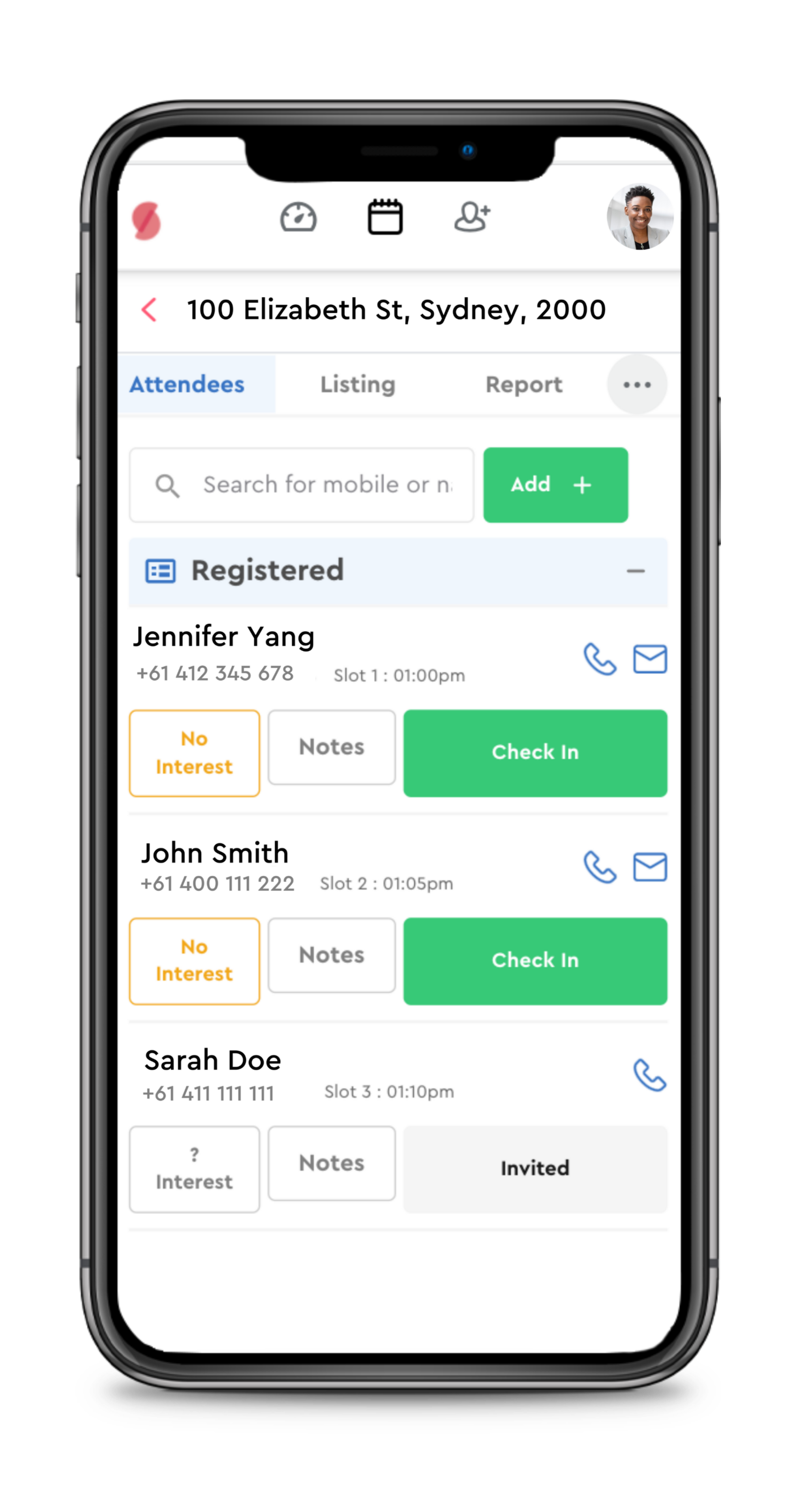 Viewings notifications
Prospects are sent via SMS or Email depending on the timeliness:
Current opens in the auto-response to enquiries (email)
Available times published for an open home invitation to register (email)
New and changed viewing times (email)
Confirmation of registered for inspection viewing (SMS)
Reminder of inspection on the day (email)
Reminder of inspection on the day (SMS upgrade bundle)
Re-confirm or cancel your attendance at the open home (email)
PM running late (SMS)
PM cancelling open home (SMS)
Apply Link after checked-in (SMS, email)
PMs are sent:
Daily update is sent each morning with viewings scheduled (email)
New Viewing Request (email)
New Viewing Registration confirmation (email)
Cancellations (email)
Note: visit My Team -> Settings -> Personal -> Notifications to manage your Viewing alerts.
Owners are sent:
New viewing created (email)
Detailed Viewing Report (manual or automated email)
Summary Viewing Report (sms, 30 mins after the viewing closes)
Note: visit My Team -> Settings -> Viewings to customise.
Viewings Run
Create a viewings run within minutes for any member of your team, on any day!
Simply select the desired properties and our algorithm calculates the fastest time between start and end property (including travel, buffer time plus refreshment breaks).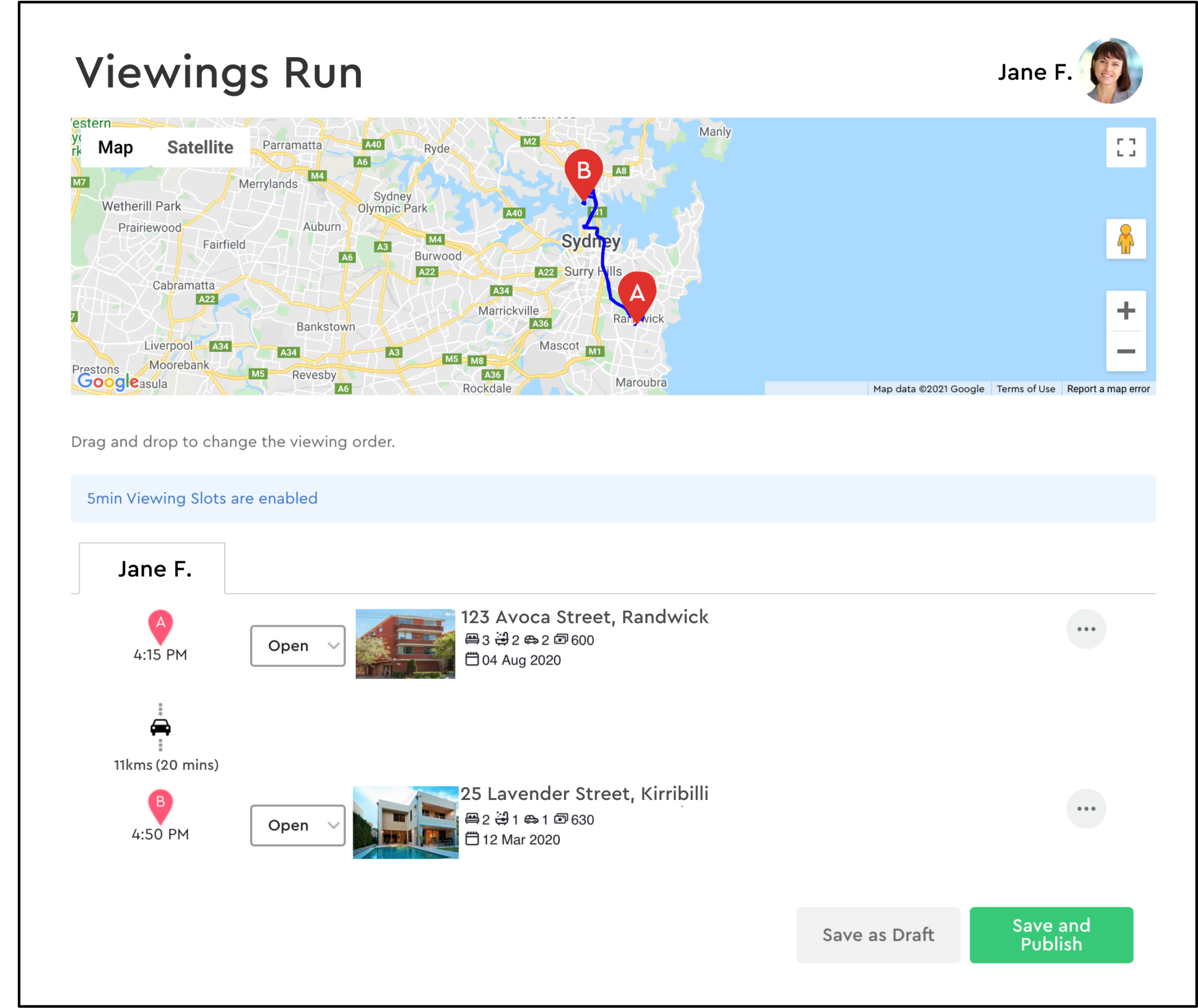 Viewing Reports
Streamline communications with your team and clients with automated Viewing reports.
Viewing reports can be emailed automatically to your team or shared with the property owner via Settings or in your Viewing dashboard.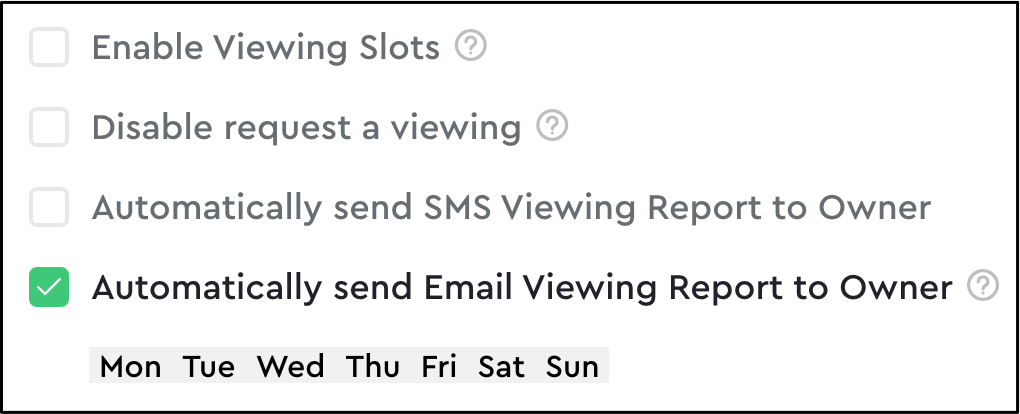 Viewing Settings
Viewing settings are accessible to Team Admin to manage the Viewing schedule and availability.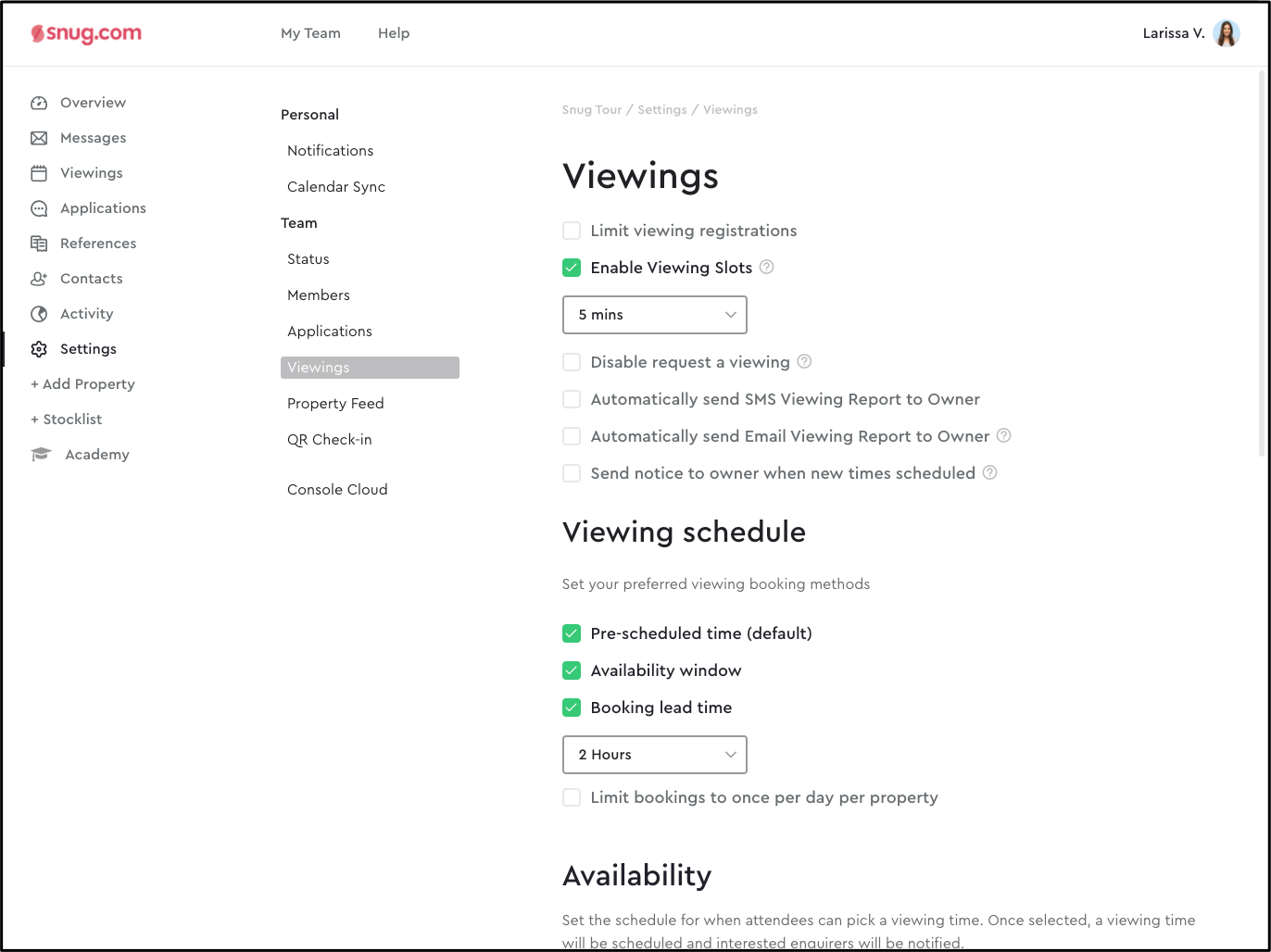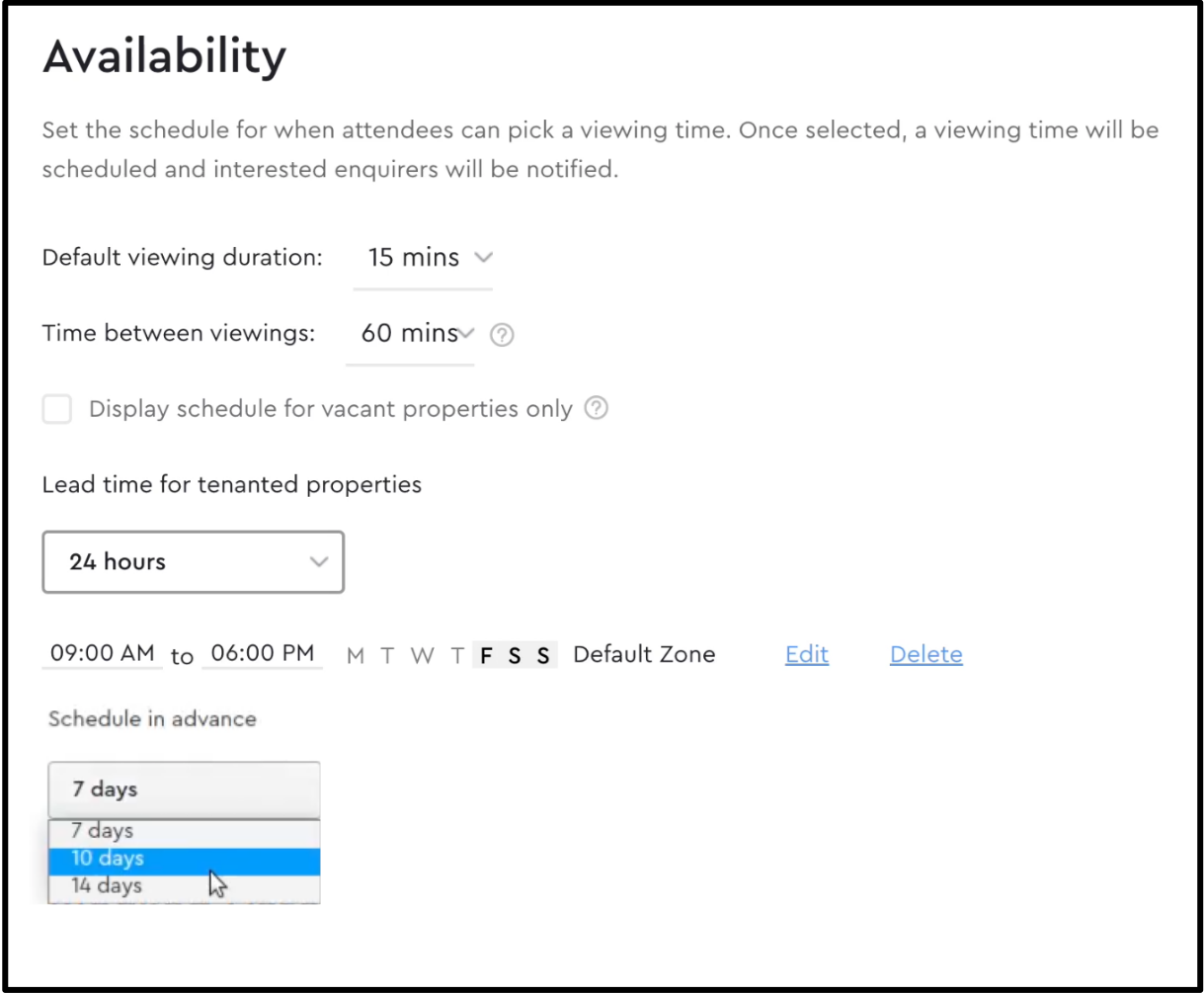 Common questions:
Q. Does Snug push the viewing times to the portals?
A. Yes with selected integration partners viewing open home and times created on Snug are sent to portals eg. VaultRE. Yes, for select portals Snug has a direct integration and displays open homes and ideal week/availability schedule eg. Domain, Zango, Allhomes, Homely (as at Feb 2022)
Q. Why can't I access the Viewing settings?
A. Only team admin have access to Viewing settings. To access your Viewing settings, discuss this directly with your team admin.
Q. What does "Pre-scheduled time (default)" setting mean?
A. This is the default viewing mode for Snug that allows open or private viewings to be scheduled via a property feed or by adding directly on Snug. This setting cannot be disabled.

Q. How are viewings cancelled?
A. Viewings can only be cancelled by team members, either directly or via a property uploader update. A viewing is cancelled if:
It was cancelled in Snug directly by clicking the viewing context menu on the viewings page
A previously published future viewing time is removed and republish via a property uploader
Cancel future viewings is selected when sending an offer, marking an application as leased or archiving a property